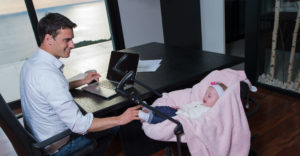 When we talk about Gay surrogacy, the arrangement requires an egg donor who will donate her egg, along with a surrogate mother, who will carry the child in her womb for the Gay couples. Moreover, both the egg donor and surrogate can be the same or different persons depending upon the type of surrogacy arrangement you a gay couple is going for. In case of a traditional surrogacy, the egg donor and the surrogate are the same person and the same turn to two different people in case of Gestational surrogacy arrangement.
There are times when the female friends or relatives of Gay couples play the role of either an egg donor or the surrogate mother. On the other hand, it can also be done with the help of certain surrogacy agencies and attorneys who can facilitate a surrogacy arrangement in the wake of their connections with certain egg donors and surrogate mothers.
1. Traditional surrogacy with Artificial Insemination (AI)
During this type of surrogacy arrangement, the surrogate mother is artificially inseminated with the sperm of the Intended father.
2. IVF, Egg Donation and Gestational Surrogacy
During this case scenario, IVF (in vitro fertilization) is used to organize the ovulatory process, whilst extracting  eggs from the donor's ovaries and getting them fertilized with the sperm in a lab dish. The embryo which is formed in the process is then transferred into the uterus of the surrogate mother in order to let her carry the pregnancy for the intended parents in the process.
Genetic connections
The gay couples can opt for certain arrangement which facilitate the biological connection with the child.
This involves combining the sperm derived from each partner with the eggs extracted from donors in separate arrangements. This sometimes led to the birth of twins from different fathers but same biological mother. In case if there's only one child born, the identity of the father can be revealed by a DNA test.
One of the relatives of male partners (like a sister) can also serve as an egg donor or surrogate and hence both the dads would be having a biological connection with the born child.
A gay couple can firstly have a child genetically connected to one of the male partners and then if they wish for another child in the process, other partner's sperm can be used to attain the pregnancy with the same surrogate. During this arrangement, both of the partners would be having a biological connection with their respective child and even the child would be genetically connected whilst having the same biological mother.
Legal implications
It's always important for the gay couples to hire an attorney who is a specialist in assisted reproductive law in order to draft surrogate/egg donor agreements offer his advice on every legal implications within the surrogacy arrangements.